HAGERSTOWN, MD (May 31, 2023) – On behalf of Tri-County Council for Western Maryland, the Washington County Department of Business and Economic Development is pleased to announce the successful allocation of funding for the first round of economic development projects. To gain further insights, please refer to the original release provided below.
---
FOR IMMEDIATE RELEASE
Senator George Edwards Fund Announces
First Round of Economic Development Projects
May 30, 2023 – Garrett, Allegany & Washington Counties, MD – The Senator George C. Edwards Fund, a fund for economic development initiatives in Washington, Allegany, and Garrett counties in Western Maryland, today announced that 26 economic development projects across the three counties will receive funding totaling $19,866,223 or approximately $6,600,000 per county.
Managed by the 11-member Western Maryland Economic Future Investment Board, the Fund received 100 applications. Each board member reviewed all the applications, and the county commissioners from each county ranked the projects within their jurisdictions. The ranked projects were presented to the board, which had the final vote.
The total value of the funded projects is $178,492,323, which is leveraged by $19,866,223 from the Fund. The projects are expected to create over 600 direct, permanent jobs, not including temporary construction jobs or indirect job creation. Grant agreements have been signed with the awardees, and the Tri-County Council for Western Maryland is presently coordinating the distribution of funds.
Notable projects awarded funding include a significant expansion of Beitzel Corporation's HQ facility in Grantsville, where the company will construct a new field crew and fleet training and maintenance center; infrastructure funding to continue utility repairs at Fort Ritchie in Cascade; and redevelopment assistance for three downtown Cumberland buildings, including a facility that will host a partnership with Rainmaker Entertainment (DelFest) and Allegany College of Maryland, training a new generation in modern marketing and communication skills. See attached for a listing of all the awardees.
Board member and Fund namesake Senator George C. Edwards said, "I am very happy to see this fund support so many strong projects, which will have a tremendous impact on our communities. These investments in Western Maryland will create jobs and help attract new businesses, supporting and inspiring economic growth for years to come."
Board Chair Andrew Sargent, from the Maryland Department of Commerce, added, "The Economic Future Investment Board worked hard to review all the applications and identify the projects that would have the greatest impact on the region. We are excited to see these projects progress and are proud to have played a role in their success."
Subsequent opportunities for funding from The Senator George C. Edwards fund will be announced in the coming weeks on the Fund's website, www.senatoredwardsfund.org.
Contact:
Western Maryland Economic Future Investment Board
Email: [email protected] Website: www.senatoredwardsfund.org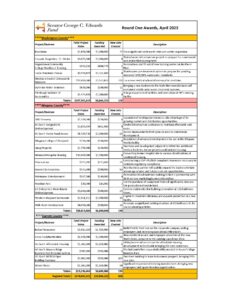 For additional information, please contact Washington County's Business Development Department at 240-313-2280 or [email protected].
###