Solid Waste & Recycling Menu
12630 Earth Care Road
Hagerstown, MD 21740
Landfill Hours: Monday – Saturday 7:00am –  3:30pm

(Scales close at 3:00pm)

Convenience Center Hours: Tuesday – Saturday, 7:30am –  3:30pm
Landfill Office Hours: Monday – Friday, 7:00am –  4:00pm (Phones are not attended outside of these hours)
Permit Sales

Landfill: Monday – Saturday, 8:00am – 2:30pm

Convenience Centers: Tuesday – Saturday, 8:00am – 2:30pm
Phone: 240-313-2790
Fax: 301-582-3412
TTY users may call any government office through the Maryland Relay Service 1-800-735-2258
To provide effective solid waste management and recycling for the residents of Washington County while looking for new, innovative, cost effective and environmentally sound ways to conduct solid waste and recycling operations in the future.
To research ways to convert solid waste to a resource and minimize if not eliminate the need for landfills.
Dargan Convenience Center
Greensburg Convenience Center
Hancock Convenience Center
Kaetzel Convenience Center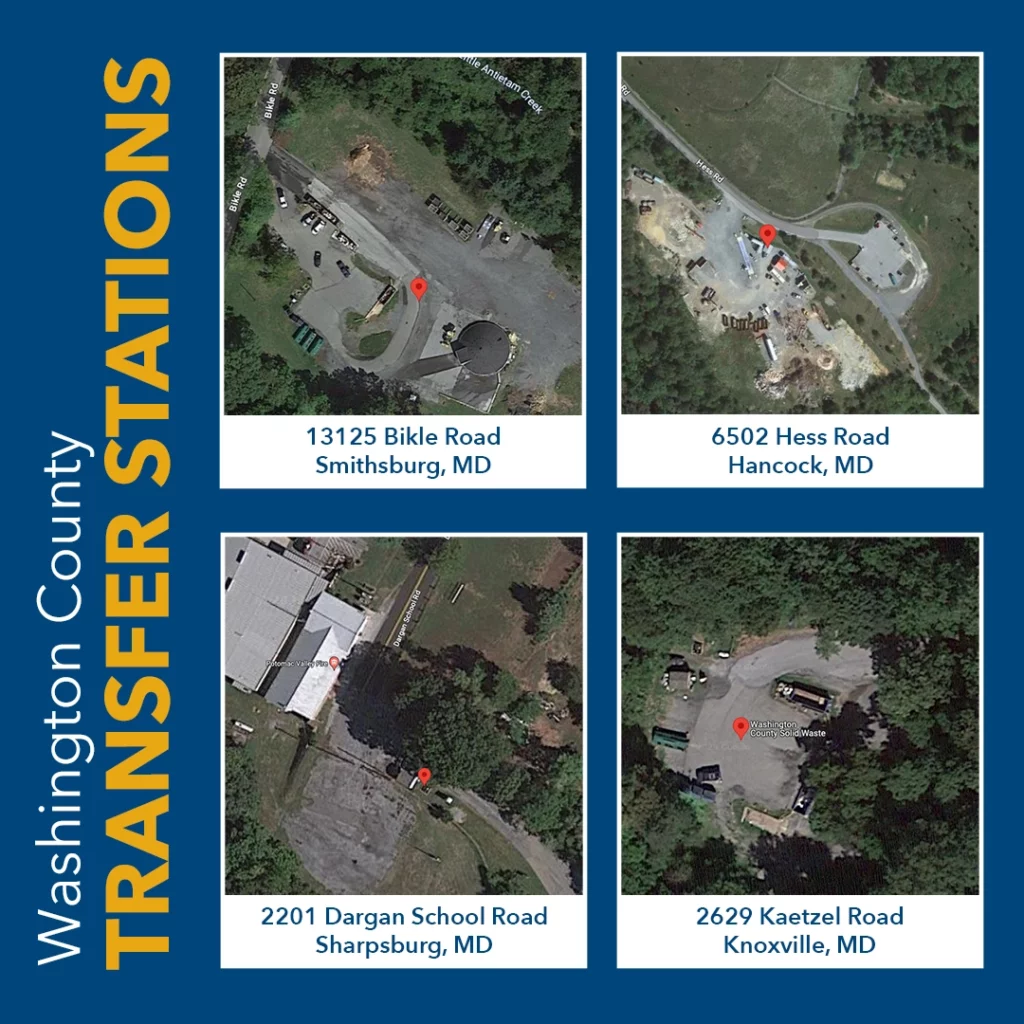 To apply for a permit visit the Solid Waste Permit Sales Building at the 40 West Landfill or any of the Transfer Stations.
Washington County Landfill Tour
12630 Earth Care Road
Hagerstown, MD 21740
Landfill Hours: Monday – Saturday 7:00am –  3:30pm

(Scales close at 3:00pm)

Convenience Center Hours: Tuesday – Saturday, 7:30am –  3:30pm
Landfill Office Hours: Monday – Friday, 7:00am –  4:00pm (Phones are not attended outside of these hours)
Permit Sales

Landfill: Monday – Saturday, 8:00am – 2:30pm

Convenience Centers: Tuesday – Saturday, 8:00am – 2:30pm
Phone: 240-313-2790
Fax: 301-582-3412
TTY users may call any government office through the Maryland Relay Service 1-800-735-2258