Solid Waste & Recycling Menu
Residential Permits & Cash Sales
To apply for a permit visit the Solid Waste Permit Sales Building at the 40 West Landfill or any of the Transfer Stations.
Residential Permits may be purchased at the Forty West Landfill residential use lot between the hours of 8:00 a.m. and 2:30 p.m., Monday through Saturday.  Permits may also be purchased year round at all of our transfer stations between the hours of 8:00 a.m. and 3:00 p.m., Tuesday through Saturday.  Purchases must be made with a check only. Bring the vehicle you wish to permit so the permit can be placed on the vehicle.  You may bring trash at that time for unloading after purchase of permit
Only general household trash is covered under the Residential Permit. Construction/demolition debris is not covered under the permit.  Effective July 1, 2018, yard debris will be covered under a Yard Debris permit.  Additionally, use of the Green recycling bins and Cardboard Only recycling bins at all Convenience Centers will be covered under a $36 Recycling Permit.  Each permit is now available individually.
Cash Sales: Any county resident can use the landfill on a cash basis.  A residential permit is not required for cash sales.  We accept cash, checks, and credit cards.  Credit Cards are only accepted at the scale house. Rates are $55 per ton for general household waste, $75 per ton for construction/demo debris, and $63 per ton for yard debris.  Other rates apply for special waste.  There is a $10 minimum scale fee for cash and a $25 minimum scale fee for credit cards.  We advise cash sale customers to be on the scales before 3:00 PM to allow time to unload.  The In-Bound Scales close at 3:00; the Out-Bound Scales close at 3:15 PM. NO EXCEPTIONS!
Scrap Tire Permit: Any customer hauling six or more tires to the Landfill is required to obtain a Temporary Scrap Tire Haulers License from the Maryland Department of the Environment.  Please call 410-537-3314 for the license information.
Residential Convenience Centers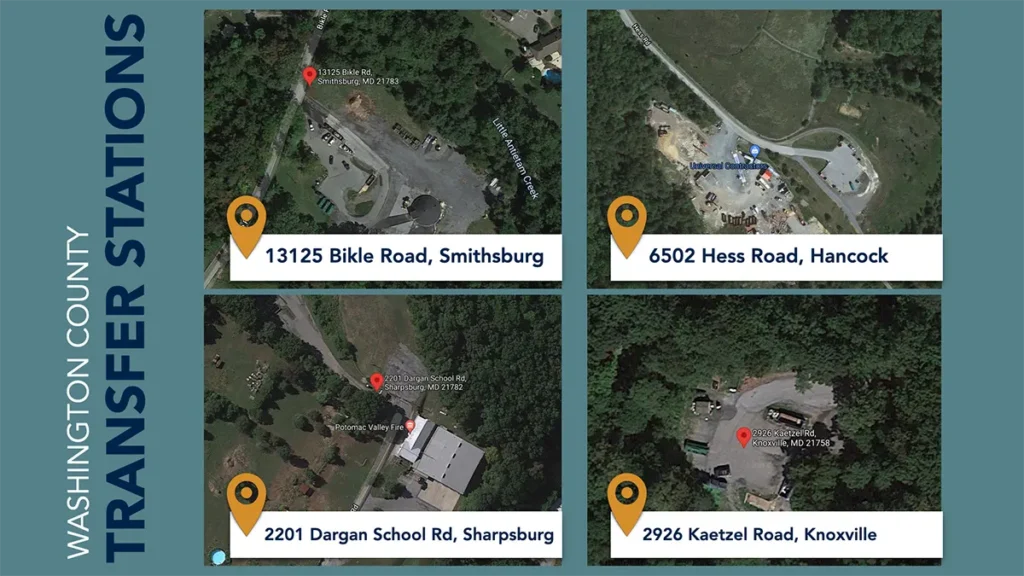 (Residential Waste and Recyclables Permit Holders Only)
12630 Earth Care Road
Hagerstown, MD 21740
Landfill Hours: Monday – Saturday 7:00am –  3:30pm

(Scales close at 3:00pm)

Convenience Center Hours: Tuesday – Saturday, 7:30am –  3:30pm
Landfill Office Hours: Monday – Friday, 7:00am –  4:00pm (Phones are not attended outside of these hours)
Permit Sales

Landfill: Monday – Saturday, 8:00am – 2:30pm

Convenience Centers: Tuesday – Saturday, 8:00am – 2:30pm
Phone: 240-313-2790
Fax: 301-582-3412
TTY users may call any government office through the Maryland Relay Service 1-800-735-2258