Solid Waste & Recycling Menu
Recycling Drop-Off Locations
BLUE BOXES – HOUSEHOLD RECYCLABLES ONLY (No Businesses)
Please call the Washington County Solid Waste Department at 240-313-2790 or the Recycling Office at 240-313-2796 if you have questions.
This program is for Washington County residents only.
A permit is now required to use Washington County Residential Drop Off boxes.
40 West Landfill In-Bound Scales Close at 3:00 p.m. Out-Bound Scales Close at 3:15p.m. Non-Permit Customers MUST be at the scales no later than 3:00 p.m. Permit holders may dump trash until 3:30 p.m.
Where To Recycle Other Materials
Corrugated Cardboard:  Maryland Paper
Compact Fluorescent Light Bulbs: Lowes; Home Depot
Oily Wastes:  Spirit Services; SafetyKleen; Clean Venture
Websites to help locate recycling alternatives:
Washington County Residents and Businesses may contact the recycling office for additional recycling information. Call 240-313-2796 or email Tony Drury
Dargan Convenience Center
Greensburg Convenience Center
Hancock Convenience Center
Kaetzel Convenience Center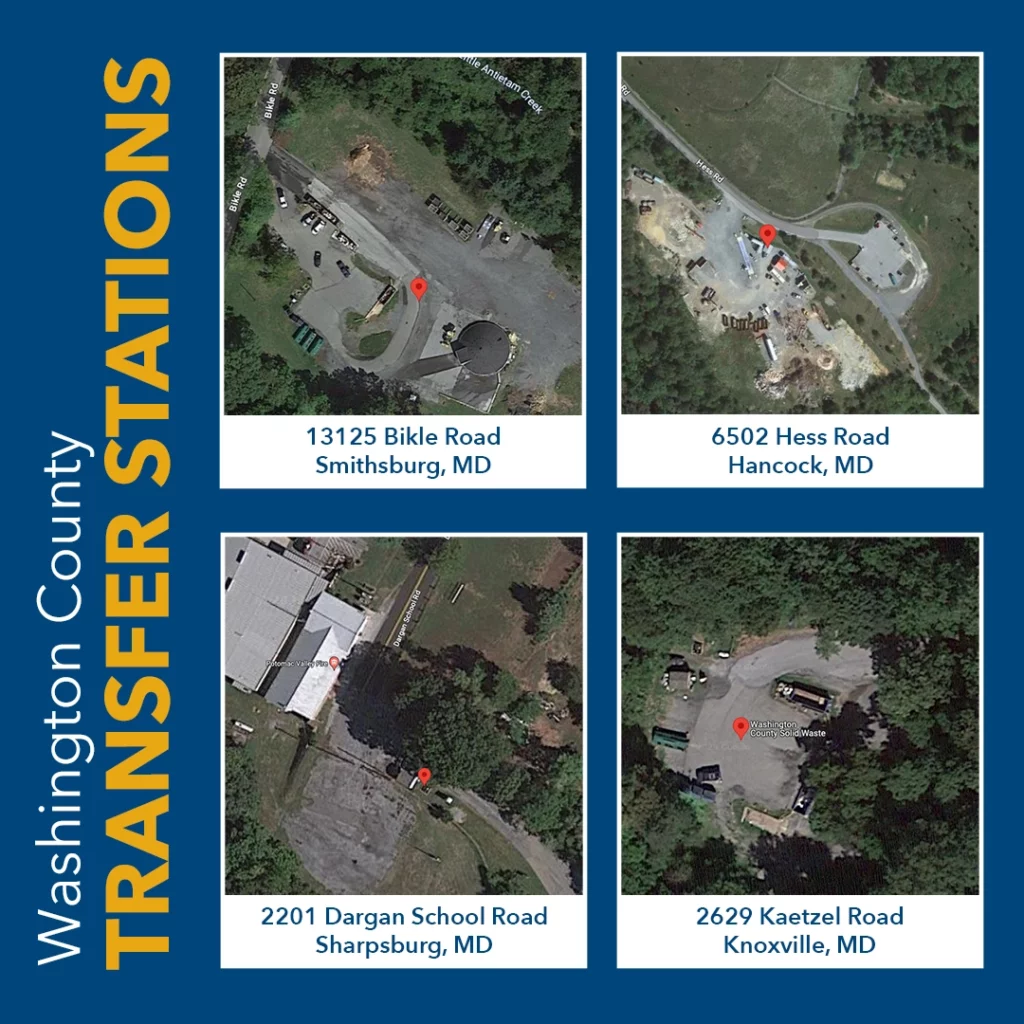 12630 Earth Care Road
Hagerstown, MD 21740
Landfill Hours: Monday – Saturday 7:00am –  3:30pm

(Scales close at 3:00pm)

Convenience Center Hours: Tuesday – Saturday, 7:30am –  3:30pm
Landfill Office Hours: Monday – Friday, 7:00am –  4:00pm (Phones are not attended outside of these hours)
Permit Sales

Landfill: Monday – Saturday, 8:00am – 2:30pm

Convenience Centers: Tuesday – Saturday, 8:00am – 2:30pm
Phone: 240-313-2790
Fax: 301-582-3412
TTY users may call any government office through the Maryland Relay Service 1-800-735-2258