HAGERSTOWN, MD (March 16, 2020) – 
Washington County Government
 announces a Local State of Emergency declaration in Washington County as well as disclosing new restrictions for Washington County Government buildings. All actions are precautionary to prevent the spread of Coronavirus (COVID-19).
Effective immediately, a Local State of Emergency has been declared for Washington County, running parallel with the State. The declaration will remain in effect for the duration of the State's State of Emergency.
Also, effective immediately and until further notice, Washington County Government will implement the following restrictions:
Washington County Board of County Commissioners regular scheduled meeting for Tuesday, March 17, 2020 is cancelled and future meetings will be assessed on a week-by-week basis thereafter;
Visitor access to some county office buildings will be by appointment only. A directory of departments with phone numbers is also available on the county website. Signs are posted at all entrances. This includes deliveries at the following locations:
Administration Building – 100 W Washington St
Annex Building – 80 W Baltimore St
Highways – 601 Northern Ave
Environmental Management & Emergency Services – 16232 Elliott Parkway
Emergency Support Services – 17556 York Rd
Agricultural Education Center – 7313 Sharpsburg Pike
Visitors destined for the Treasurer's Office require an appointment. Call to schedule an appointment at 240-313-2110.
Any residents needing to visit any county office building should call the county's main phone number at 240-313-2776 for referral to the appropriate department to receive more information or to schedule an appointment.
All visitors or those seeking appointments will be asked the following questions on the phone or prior to going beyond the Administration Building's Information Desk area:
Are you or others you have had close contact with, suspected of having coronavirus (COVID-19)?
Have you recently traveled to or from another country?
Do you have any of the following symptoms?
Fever
Cough
Shortness of breath
Washington County Commission on Aging's Senior Center remains closed.
Starting Tuesday, March 17, 2020, following the State Board of Elections instruction, the Washington County Board of Elections office will be operating by appointment only.
All county meetings are cancelled unless attendees are notified by county staff. Teleconferencing will be used when possible. Any exceptions to this protocol will be communicated by the managing department. This includes Planning Commission and Board of Zoning Appeals.
All Washington County Parks & Recreation sponsored programs and events are canceled through March 29, regardless of their location. In accordance with Governor Hogan's Executive Order, all events and gatherings of groups larger than 50 people are cancelled. Washington County park facilities are seasonally closed, however, outdoor areas remain open for public use. Black Rock Golf Course remains open, but the restaurant will be closed.
Other activities and events may be cancelled; contact the sponsor or check the website prior to visiting.
The County is enacting enhanced measures to mitigate the risk of contact with the COVID-19 virus. This includes enhanced cleaning protocols at public facilities. We will continue to adjust operations as events warrant. Updates and changes to the building and park access may occur at any time. All visitors are recommended to contact the department they plan to visit or the main county office building for updates prior to arriving.
This is a rapidly changing situation, and information is being shared as it becomes available.Accurate COVID-19 information is critical to the community. For the most current and accurate information about the situation, please refer to the following:
The Health Department strongly encourages the community to continue preventive measures: such as cover your coughs and sneezes, wash your hands often with soap and water for at least 20 seconds, avoid touching your face, clean frequently touched surfaces and objects daily, and stay at home if you are sick. Do your part to help flatten the curve.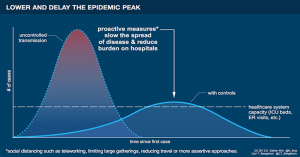 Health officials also encourage everyone to stay at home when possible. If a citizen must go out, please practice social distancing measures such as staying six feet away from others and avoiding large groups of people. These measures are strongly recommended, especially to vulnerable populations such as adults over sixty and those with pre-existing medical conditions. If you feel you are experiencing symptoms of coronavirus, like fever, cough, and shortness of breath, contact a healthcare provider to discuss symptoms before going to urgent care or the emergency room.
As updates and new information come available, the County will continue to keep the public informed with as much detail as HIPAA laws allow. Please follow the Washington County Health Department 
website
 and Washington County Government's 
Facebook
 page for the most up-to-date news on coronavirus in the county.
For general information or if you think you may have been exposed to COVID-19 or have COVID-19 symptoms, please call Meritus at 301-790-9170 to be assessed by a nurse.
For additional information, please contact the Public Relations and Marketing Department at 240-313-2380 or 
[email protected]
.
###