The Washington County Office of Emergency Management invites you to save the date for the annual "Remembrance In The Park" memorial ceremony in the Washington County Emergency Services Tribute Gardens at Hagerstown City Park. This ceremony is a time to honor those who currently serve, or have served, in the military, law enforcement, and emergency services and the citizens who volunteer to keep the community a safer and more prepared place in which to live.
This memorial ceremony will also honor our fallen heroes who have made the ultimate sacrifice in the line of duty to keep our community safe and protect the citizens of Washington County, Maryland.
This event is sponsored by the Washington County Emergency Management Corps, Washington County Board of County Commissioners, and the City of Hagerstown.
---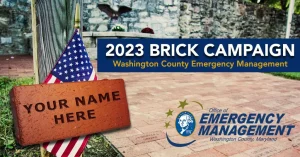 The Washington County Office of Emergency Management is also hosting a 2023 Brick Campaign. Click on the graphic above to complete to brick campaign form. The deadline to order bricks is July 1, 2023.
There will be one dedication per brick and a completed form is required for each brick. Bricks will be laid in the Emergency Services Memorial Walk of Honor located in Hagerstown City Park. The revealing will be held during the "Remembrance in the Park" ceremony on September 12, 2023.
For additional information, please contact Washington County's Public Relations and Marketing Department at [email protected].
###