Agriculture
Agriculture in Washington County, and all across the nation, has seen substantial changes over the last 50 years. Technology, development, production enhancements, rising costs, regulations, and growth are all factors that have changed the fabric and composition of agriculture. Understanding the importance and significance of agriculture in Washington County is the first step to realizing you cannot survive without agriculture in one of its many forms.
Washington County Agriculture Profile (USDA Census of Agriculture, 2012)
Number of Farms: 860
Land in Farms: 129,600  Acres
Average Size of Farm: 151 Acres
Total Land Area: 458 Square miles
Washington County offers a variety of farms for every member of your family. Value-added products and events and attractions can be found at many of these farms.
Washington County is ranked FIRST in hogs and pigs in the State of Maryland.

Washington County is home to several wineries and breweries. The Antietam Wine Trail stretches across Washington County attracting visitors and citizens to local events.
Washington County is ranked FIRST for sales of fruits, trees, and berries in the State of Maryland.
Washington County has an agritourism app that allows the user to search local farms for products, what's in season, ag-related events, and local wine and ale trails. This app is meant to encourage citizens to eat local and contribute to the agriculture community.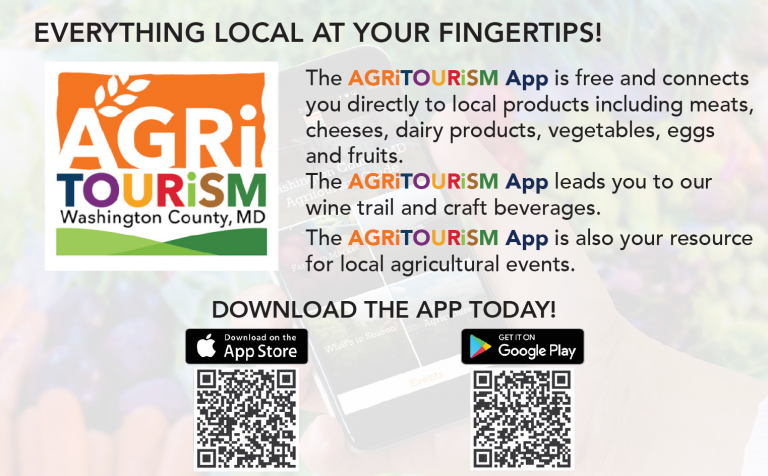 County dairy production is second in the state and land in orchards leads the state. Agricultural, agribusiness, and related food production operations in Washington County include:
Palmyra Farms – dairy and cheeses
Knob Hall Winery – vineyard and winery
Lanco-PennlandCheese – dairy products manufacturing
Misty Meadow Farm – dairy and creamery
Big Cork Vineyards – farm market; winery
Dairy One Cooperative – milk testing services
Hadley Orchards – apples, peaches
Antietam Brewery – Craft Beverages
Cushwa Brewery – Craft Beverages
South-Mountain MicroFARM – fresh, sustainable and local products from an ecosystem