HAGERSTOWN, MD (March 9, 2020) – 
Washington County Government
 hosted a press conference this morning regarding the 
2019 novel coronavirus (COVID-19)
 and how local citizens can help prevent the spread of the virus. Health Officer Earl Stoner from the 
Washington County Health Department
 spoke on the County's commitment to coordinate information to the community, establish a plan for first responders and Meritus staff, and to address any resource needs that may arise. The County remains at low risk and encourages citizens to not panic but to prepare and plan. Citizens are also encouraged to stay informed with credible and accurate information.
Stoner said, "While I understand the news of confirmed cases of coronavirus in Maryland may seem overwhelming, there is no reason to panic. However, now is the time to take this threat seriously, to prepare ourselves, and to stay informed with creditable information. At this time, the risk in Washington County remains low. Local health and emergency response partners have robust plans and are implementing a unified approach toward keeping the community safe. We also have a collective responsibility to take preventive measures seriously. Wash your hands frequently and thoroughly, avoid touching your face, cough and sneeze into your elbow or a tissue, and stay home if you are showing symptoms."
On March 5, 2020, Governor Hogan declared a state of emergency after the state received confirmation of the first cases of COVID-19 in Maryland. At this time there are no confirmed cases in Washington County. The state of emergency declaration will allow the 
Maryland Department of Health
 and 
Maryland Emergency Management Agency (MEMA)
 to accelerate coordination with state and local agencies. The Governor also submitted emergency legislation last week to MEMA that will raise the 
response activation level
 to Enhanced, allowing for additional monitoring or resources throughout the State.
Washington County has created a task force of local agencies that are committed to ensure that essential government services will be provided in the event that an outbreak would happen in the community.
To view the County's website regarding the COVID-19, click 
here
.
For questions and concerns related to COVID-19, please contact Meritus Health at 
COVID-19@meritushealth.com
. If you have flu-like symptoms, including a fever and cough, and are unsure what new guidelines are considered a risk, please call 301-790-9170 before going to the hospital or visiting a medical provider.
As a reminder to the public, please follow these general safety tips provided by the 
American Red Cross
.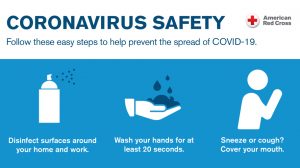 For additional information, please contact Washington County's Public Relations and Marketing Department at 240-313-2380 or 
pr@washco-md.net
.
###