About the Historic District Commission
Historic District Commission Menu
About the Historic District Commission
The Historic District Commission was created in 1986 but the County has been focusing on its historic resources since the late 1960's. The creation of the HDC, including its duties and powers are largely housed in the Zoning Ordinance for Washington County. In 1991 the HDC also became a participant in the Certified Local Government program."
Pursuant to the authority granted to Washington County in Md. Code, Land Use Article, § 8-201, there is hereby created the "Historic District Commission of Washington County, Maryland." For the purposes of this article only, it shall be referred to as "the Commission."
Number of Members: The Commission shall consist of seven (7) members appointed by the Board of County Commissioners. Each member must be a resident of Washington County.
Professional Members: The Commission shall have at least two (2) members who possess professional or academic training in architecture, history, architectural history or archaeology in accordance with 36CFR61. A good-faith effort to locate and appoint such professionals, to the extent that they are available in the community, will be made, and documentation as to how this effort was accomplished shall be kept among the Commission's records.
Qualifications of members: All commission members must possess a demonstrated special interest, specific knowledge or professional or academic training in such fields as architecture, history, architectural history, planning, cultural anthropology, prehistoric and historic archaeology, folklore, curation, conservation, landscape architecture, historic preservation, urban design or related disciplines.
Diversity: All Commission members shall be selected to represent the geographical, social, economic and cultural concerns of the residents of Washington County.
Term: Members of the Commission shall serve for three-year terms, which terms shall be staggered. Members shall be eligible for reappointment for a second full term.
Vacancy: Any vacancy in the membership of the Commission shall be filled within sixty days in the same manner as provided in (b) and (c) above.
Removal: A member may be removed by the Board of County Commissioners in the best interest of the citizens of Washington County for inefficiency, neglect of duty or malfeasance in office.
The Commission shall adopt such rules, regulations and by-laws as necessary for the proper transaction of the business of the Commission.
Meetings: The Commission shall hold such regular meetings, which, in its discretion, are necessary to discharge its duties. The meetings shall be open to the public. Any interested person or representative is entitled to appear and be heard by the Commission before it reaches a decision on any matter. The Commission shall maintain an open record of its resolutions, proceedings, and actions, which shall be kept available for public inspection during reasonable business hours.
Staff: There may be appointed and assigned to the Commission such employees, and the Board of County Commissioners shall make available to the Commission, such services and facilities of the County, as are necessary or appropriate for the proper performances of its duties.
Duties of the Historic District Commission
Review applications (Section 20.6-Historic Preservation, Section 5D.4-Rural Village and Section 20A-Antietam Overlay
Review and make recommendations regarding legislation, applications for zoning text or map amendments, special exceptions, variances, site plans, subdivisions or other proposals affecting historic preservation.
Recommend programs and legislation to the Board of County Commissioners and Planning Commission to encourage historic preservation
Serve as a clearing house for information, provide educational materials and info the public and undertake activities that advance the goals of historic preservation
Development of additional duties and standards. For example criteria to be used in the review of building permit applications
Prepare, adopt, publish and amend any additional guidelines to provide adequate review materials for applications including HP and building permits
Oversee the maintenance and updating of the inventory of Washington County Historic Sites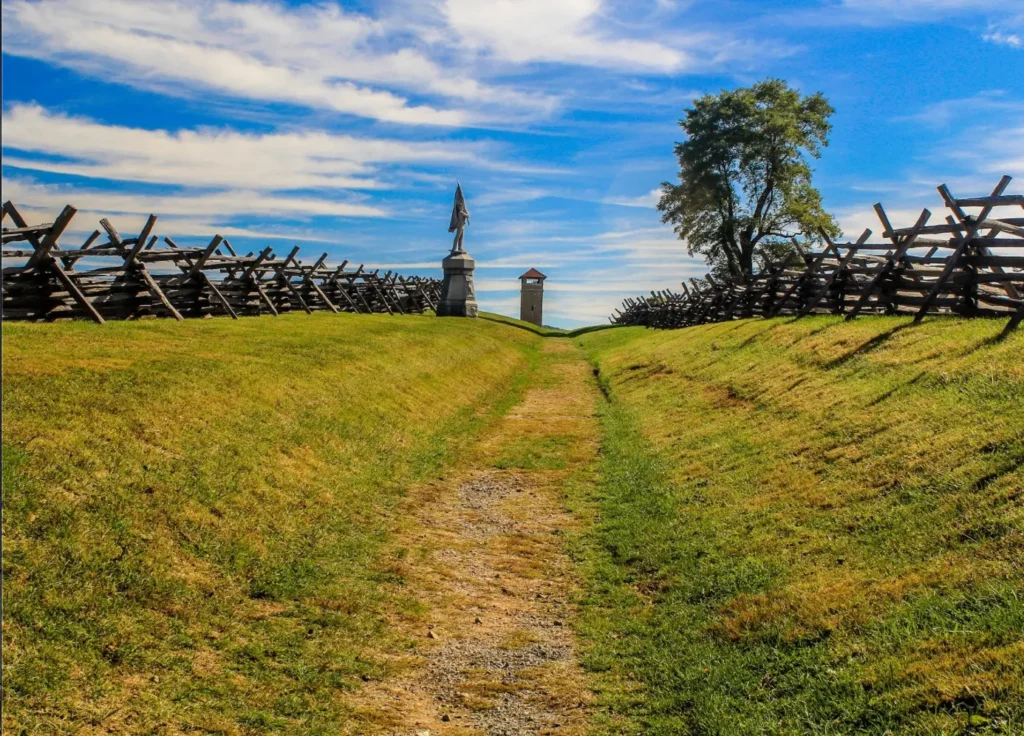 Powers of the Historic District Commission
Authority to Approve or Deny:
Design review on all new construction within a certified Rural Village or Antietam Overlay.

Design review on all construction within a Historic Preservation Zone.

Demolition permit applications on structures within a Historic Preservation Zone and contributing structures with Antietam Overlay zoning.

Determination for issuance of property tax credits for properties zoned as National Register of Historic Places, Historic Preservation or Antietam Overlay.
Recommendations on:
Demolition permit applications for structures identified on the Historic Sites Survey.

Zoning text, map amendments, special exceptions and variances, site plans and subdivision applications that affect historical structures or zones.
Certified Local Government (CLG)
Washington County earned the Certified Local Government designation on August 28, 1991, after a lengthy application review process. The Certified Local Government Program, a federal-state-local partnership, is administered through the Maryland Historical Trust. To be recognized as certified, local governments must agree to:
Enforce State or local legislation for the designation and protection of historic properties.

Establish and maintain a qualified historic preservation commission.

Maintain a system for the survey and inventory of historic properties in coordination with the State Historic Preservation Office (SHPO).

Provide for public participation in its activities.

Perform other agreed upon functions delegated to it by its SHPO.
Benefits of becoming a CLG include eligibility to compete for funds to conduct projects that promote preservation, CLG sub-grant funds, ability to participate in the CLG Educations Set Aside Program, formal participation in the National Register nomination process, annual performance evaluations, and priority technical assistance. In addition to earning an official position in the National register review process, Washington County is also eligible to apply for funds to conduct projects which promote preservation.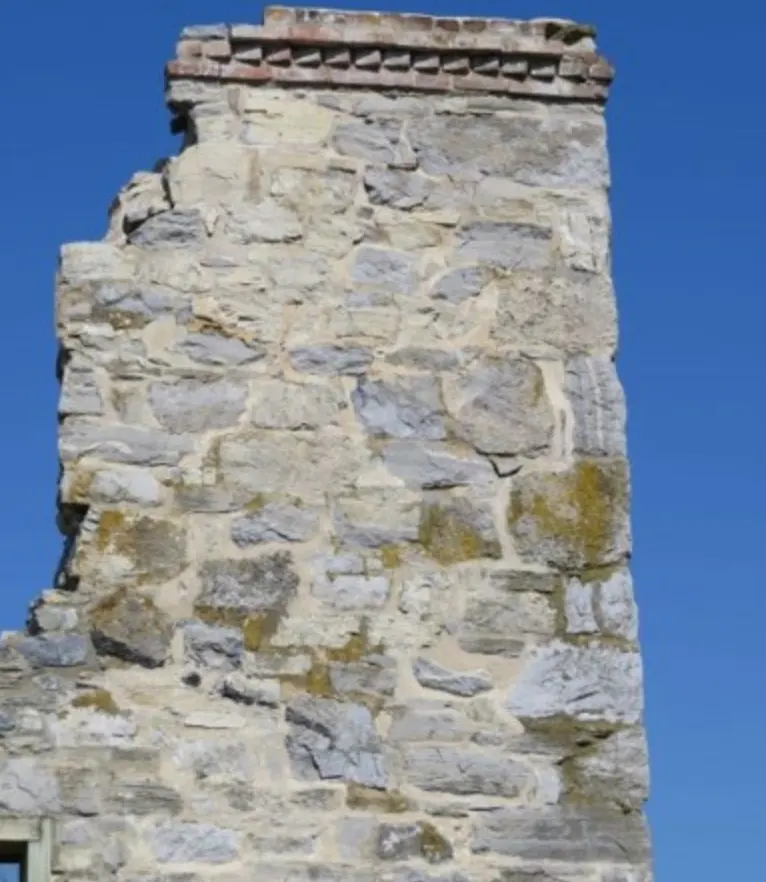 The Historic District Commission reviews building permit applications submitted to the Plan Review and Permitting Department.
Activities that affect the exterior of a historic structure and may NOT require a building permit include:
Replacement or repair of siding

Gutter/downspout repair/replacement

Door or window replacements where no structural member is changed (must be same size, same location)

Storm Windows

Portable air conditioning or heating (Installation of new HVAC systems would require permits)

Repair of architectural trim or ornaments

Repair or replacement of roof, as long as structural members remain intact (same type of replacement ex. shingle to shingle)
Important Note: This list is meant to guide discussion regarding historic property maintenance. The list is based on Residential Code (IRC) and any Commercial work should always be discussed with the Division of Plan Review and Permitting prior to any work. The list is not exhaustive and changes to Building Code requirements and County policy may occur. Always check with the Washington County Permitting Office prior to beginning work to verify permits are not required. A further list of activities not requiring a permit is located on the Permitting website.
In cases where a permit isn't required, a tax credit may still be available for the work if an application is submitted PRIOR to work beginning for the HDC to review (more information). When a permit is not required customers may still contact the HDC for recommendations and resources.
The permit applications requiring review are listed below as a flowchart.
Note: All cellular towers are reviewed and all applications for historic tax credits are reviewed by the Historic District Commission as well. 
Scale drawings/pictures of the existing buildings

Scale drawings of the proposed changes to the existing building or the new construction showing all affected sides of the structure.

Scale drawing of the property showing the location of existing buildings on the site and the location of the building additions or new construction

Sufficient Information to determine the appearance of new exterior materials either in publications or samples.
Additional review may be required for other application types. The information included here is meant to be a guide for the most common instances of Historic District Commission Review.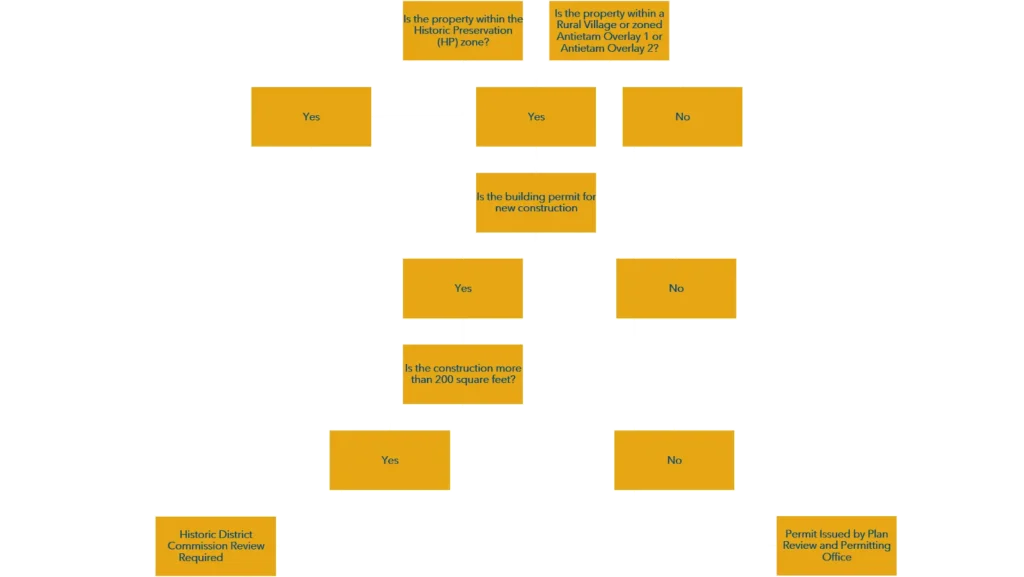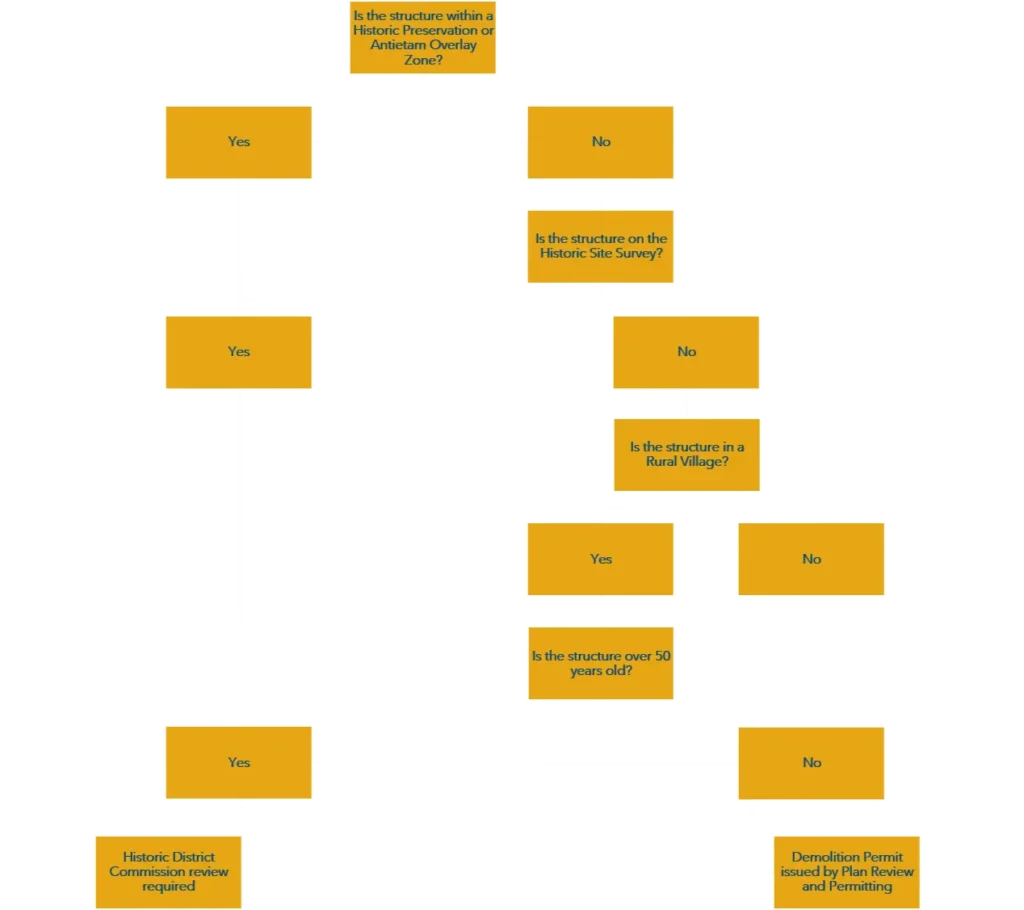 747 Northern Ave
Hagerstown, MD 21742
Phone: 240-313-2430
Email: [email protected]
Fax: 240-313-2431
Office Hours: Monday-Friday, 7:30 a.m. – 4:30 p.m.
TTY users may call any government office through the Maryland Relay Service 1-800-735-2258