Washington County, MD Government is Hiring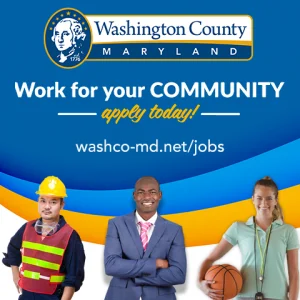 Washington County Government is hiring for full-time and part-time positions. Help make your community a better place to live by working for us!
Full-time benefits include: 6 Paid Personal Days • 10 Vacation Days • 14 Paid Holidays • 15 Paid Sick Days • Healthcare Plan • Pension Plan • Tuition Reimbursement • And much more!
Emergency Communications Specialist- Trainee
Location: Washington County
Department: Emergency Services
DEADLINE: 10/13/2023 04:00 PM
Digital Marketing Specialist
Posted: September 28, 2023
Location: Washington County
Department: Public Relations & Marketing
DEADLINE: 12/31/2023 12:00 AM
Posted: September 26, 2023
Location: Washington County
Department: Water Quality
DEADLINE: 10/10/2023 04:00 PM
Human Resources Technician
Posted: September 22, 2023
Location: Washington County
Department: Human Resources
DEADLINE: 10/06/2023 04:00 PM
Posted: September 22, 2023
Location: Washington County
DEADLINE: 10/06/2023 04:00 PM
Airport Maintenance Worker/Firefighter (Part-Time)
Posted: September 15, 2023
Location: Washington County
DEADLINE: 12/31/2023 12:00 AM
Posted: September 8, 2023
Location: Washington County
Department: Human Resources
DEADLINE: 12/31/2023 04:00 PM
Posted: September 5, 2023
Location: Washington County
DEADLINE: 12/31/2023 04:00 PM
Location: Washington County
Department: State's Attorney's Office
DEADLINE: 12/31/2023 04:00 PM
Deputy Director Human Resources
Location: Washington County
Department: Human Resources
DEADLINE: 12/31/2023 04:00 PM
Assistant County Attorney
Location: Washington County
Department: County Attorney
DEADLINE: 12/31/2023 04:00 PM