Arrive Early for a Worry-Free Travel Experience at HGR Washington County Regional Airport  
The Transportation Security Administration (TSA) currently recommends travelers arrive 2 hours before scheduled Domestic Flights. More information and travel tips are available from the TSA at www.TSA.gov.  
Curious About An Item Making It Through The Security Checkpoint? 
TSA operates the Security Checkpoint here at HGR Washington County Regional Airport. To make it easier to pack ahead of time, check this TSA "What Can I Bring" feature. This is an easy-to-use guide to help determine if your item is allowed in carry-on or checked luggage, or not allowed in either. 
TSA Customer Service
Got questions about TSA checkpoint operations or need assistance while going through security? Reach out to the TSA Contact Center by calling 866-289-9673. Live agents are available 8am-11pm ET on weekdays and 9am-8pm ET on weekends. Automated information is also available anytime in several languages. 
The AskTSA team also assists passengers on social media via Facebook and Twitter. For more TSA contact info, visit this page of the TSA website. 
State of the Art Security at HGR Washington County Airport
TSA uses millimeter wave Advanced Imaging Technology (AIT) and walk-through metal detectors to screen passengers. Millimeter wave AIT safely screens passengers without physical contact for metallic and non-metallic threats, including weapons and explosives, which may be concealed under clothing. Generally, passengers undergoing screening will have the opportunity to decline AIT screening in favor of physical screening. However, some passengers will be required to undergo AIT screening if their boarding pass indicates that they have been selected for enhanced screening, in accordance with TSA regulations, prior to their arrival at the security checkpoint. This will occur in a very limited number of circumstances. The vast majority of passengers will not be affected. See the responses to frequently asked questions. 
Safety: Advanced Imaging Technology is safe and meets national health and safety standards. This technology uses non-ionizing radio-frequency energy in the millimeter spectrum with no known adverse health effects. It does not use X-ray technology. 
Privacy: TSA has strict privacy standards when using Advanced Imaging Technology to protect your privacy. Advanced imaging technology uses automated target recognition software that eliminates passenger-specific images and instead auto-detects potential threats by indicating their location on a generic outline of a person. The generic outline is identical for all passengers.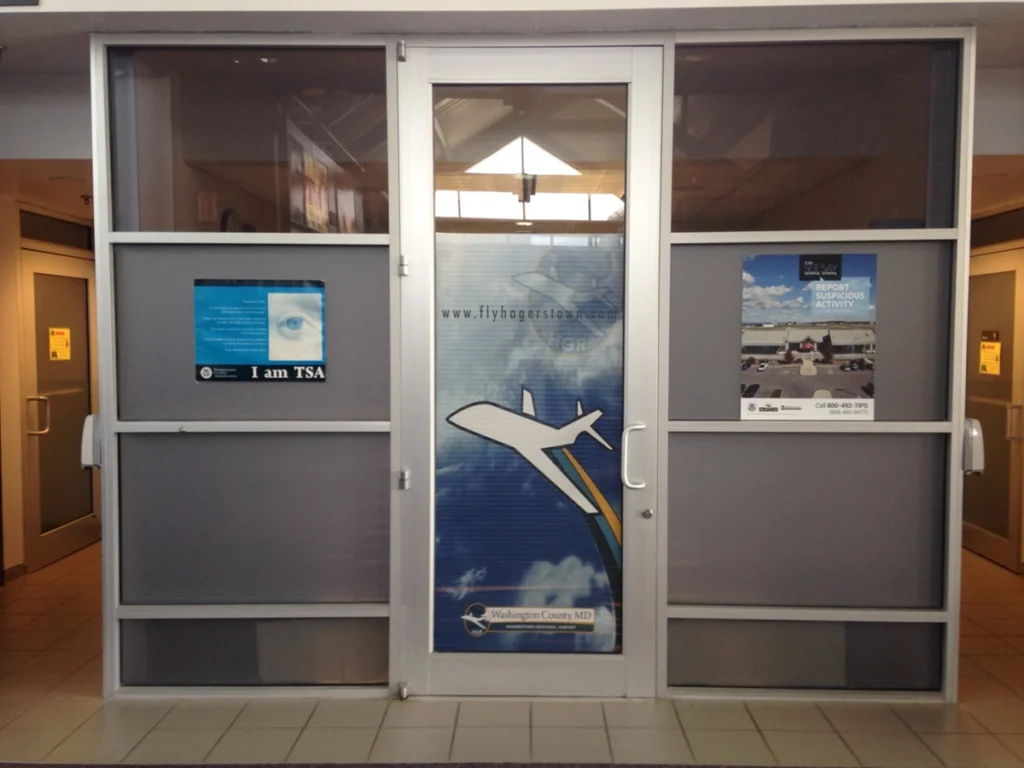 HGR Washington County Regional Airport works in close partnership with the Transportation Security Administration (TSA) to ensure safe travel for all HGR Washington County Regional Airport passengers. 
For additional information see: TSA Website 
TSA Pre✓® is a pre-screening program that allows eligible passengers to volunteer information about themselves to expedite their screening experience when traveling at participating airports. 
Learn more about: TSA Pre✓® 
Military members will no longer be able to scan their Common Access Card (CAC) at TSA Pre✓® lanes. To receive TSA Pre✓®, U.S. Armed Forces service members, including reservist and National Guard members, should enter their ten-digit Department of Defense (DoD) ID number, located on the back of the CAC, into the "Known Traveler Number (KTN)" field when making flight reservations. To learn more, please visit the following TSA website: http://www.tsa.gov/tsa-precheck/military-members.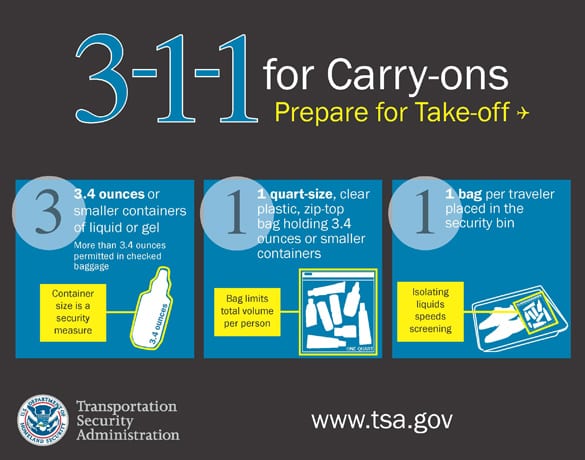 311 rule for liquids in carry-ons: 
3-1-1 for carry-ons: 3.4-ounce (100-milliliter) bottle or less (by volume) – one (1) quart-sized, clear, plastic, zip-top bag – one (1) bag per passenger placed in screening bin; one (1) quart-sized bag per person limits the total liquid volume each traveler can bring. The 3.4-ounce (100-milliliter) container size is a security measure. 
Consolidate bottles into one bag and X-ray separately to speed screening. Be prepared. Each time TSA searches a carry-on it slows down the line. Practicing 3-1-1 will ensure a faster and easier checkpoint experience. If in doubt, put your liquids in checked luggage. 
Declare larger liquids. Medications, baby formula and food, breast milk, and juice are allowed in reasonable quantities exceeding three ounces and are not required to be in the zip-top bag. Declare these items for inspection at the checkpoint. 
Come early and be patient. Heavy travel volumes and the enhanced security process may mean longer lines at security checkpoints. TSA working with our partners. TSA works with airlines and airports to anticipate peak traffic and be ready for the traveling public. 
There are many items that are prohibited, some in carry-on and some in carry-on and checked baggage. For details about the new security procedures and time saving tips visit the TSA Website. 
You are allowed one (1) carry-on bag and one (1) personal item. Your items must fit below the seat in front of you or in an overhead bin. Your carry-on bag should not exceed 22 x 14 x 9 inches / 23 x 36 x 56 centimeters (including handles and wheels). A personal item must be smaller than your carry-on bag (like a small purse, briefcase or laptop). Diaper bags, child safety seats, and medical or mobility devices do not count as your carry-on or personal item. Please check with Allegiant Airlines as they may further restrict allowable size. Musical instruments are also considered a carry-on item and must fit in the overhead bin or under the seat in front of you. 
In addition, when traveling with a pet, the kennel or container counts as your carry-on bag and the carry-on pet fee also applies. 
Weekdays:
8 a.m. to 11 p.m. ET
Weekends/Holidays:
9 a.m. to 8 p.m. ET
The deadline to comply with new federal security standards has been extended to May 7, 2025.
On that date, travelers 18 years of age or older will need to present a Real ID-compliant driver's license or ID card, state-issued enhanced driver's license or another TSA-acceptable form of identification at airport security checkpoints. Maryland residents can check their Real ID compliance using the Real ID Lookup Tool provided by Maryland Motor Vehicle Administration (MDOT MVA).
Human Trafficking Awareness
Human trafficking is a horrible crime that continues to exist in Maryland and affects all parts of the State. Three major airports, inexpensive bus transportation, train service along the east coast, large sporting events and disposable income makes Maryland an attractive destination for traffickers.
Visit http://goccp.maryland.gov/victims/rights-resources/human-trafficking/ to learn more and find resources.