The Flag of Washington County, Maryland
The Flag of Washington County, Maryland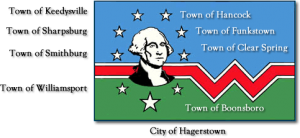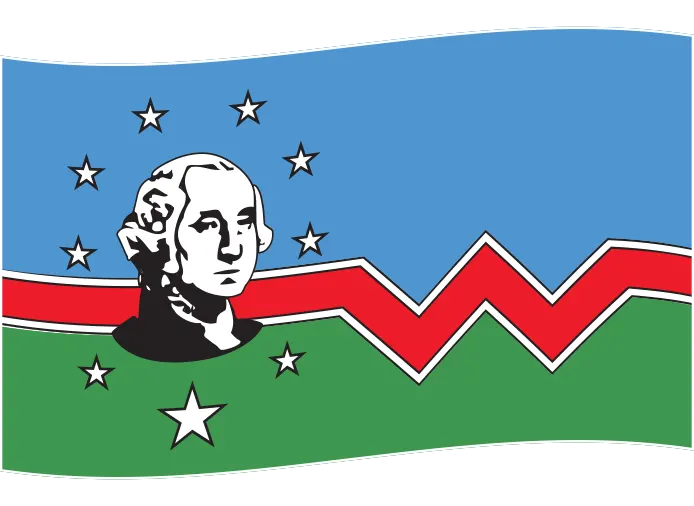 Our County Flag was formally adopted on Flag Day, June 14, 1988.  The most outstanding element of the design is the portrait of George Washington.  This represents not only the person our County was named after, but the faith in the cause our forefathers were fighting for. The courage it took to name our County after a general so early in a war where the outcome was so uncertain was tremendous.  The portrait of Washington and the W formed by the red stripe will continually remind us of that confidence and the future he envisioned.  Of the thirty-one Washington Counties across the nation, we were the first to officially adopt his name.
The stars stand for the nine incorporated towns in Washington County.  The larger star is for Hagerstown, our County Seat, while the small stars represent Boonsboro, Clear Spring, Funkstown, Hancock, Keedysville, Sharpsburg, Smithsburg and Williamsport.
In addition, the colors used in the design are meaningful.  The green background indicates agriculture, the mountains and wooded areas – a green and pleasant land in which to live.  The blue portion of the background depicts the Potomac River and other streams and bodies of water.  It also reminds us of our industry and transportation because water power first turned our wheels of industry and carried our goods and travelers.  Water was the magnet that drew early settlers to this valley.  Thus you can say it nurtured the roots of our County.  The red stands for the blood shed by our good citizens over the years for the cause of freedom.
The heritage that our flag illustrates is one rich in meaning and courage.  We feel this portrays not only Washington County and its people of the past, but Washington County and its people, present