NOTE: This is a rapidly evolving situation and this page will provide updates as they become available.

COVID-19 Testing Sites in Washington County, MD
Updated COVID-19 Guidance
The Washington County Health Department (WCHD) strongly urges all community members who are not yet fully vaccinated to wear masks in indoor group settings and to get vaccinated if they are eligible. 
COVID-19 vaccinations are available to anyone age 5 and older.  For more information or to make a COVID-19 vaccination appointment, please visit WashCoVax.com or call 240-313-3456.
Additionally, WCHD recommends that all community members, even those who are vaccinated, continue to take actions to protect themselves and prevent the spread of COVID-19, including:
Wearing a well fitted mask indoors among people who do not live with you
Avoiding large crowds and poorly ventilated indoor spaces

Washing your hands often 

with soap and water or hand sanitizer
Avoiding close contact with people who are sick, or others if you are sick
Community members showing any sign or symptom of COVID-19 should get tested, regardless of vaccination status or prior infection. Asymptomatic persons exposed to COVID-19 should also get tested, regardless of vaccination status.
Reference Links:
Remembering Jacob and Doris Bender
Washington County Health Officer Update - July 1, 2020
COVID-19 Update for Washington County, MD - April 11, 2020
Washington County Health Officer COVID-19 Update #4
Washington County Health Officer COVID-19 Update #3
Washington County Health Officer COVID-19 Update #2
Washington County Health Officer COVID-19 Update #1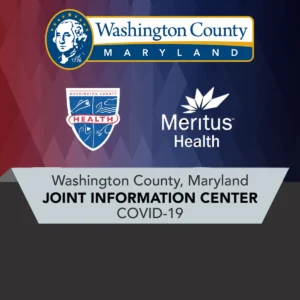 COVID-19 JOINT INFORMATION CENTER BRIEFING February 18, 2022   The is the final Joint Information Briefing.   The Washington County, Maryland Joint Information Center (JIC) presents information provided by the Washington County Health Department, Washington County Government, and Meritus Health.   All information related to COVID-19 in Washington County, Maryland can be viewed at www.washco-md.net/coronavirus-info.   Click here to receive Washington County briefings delivered
Read More »
This Page is a Collaboration Between: