NOTE: This is a rapidly evolving situation and this page will provide updates as they become available.

Online Sales & Teleworking Grant
Fillable PDF applications will be accepted electronically along with the required documentation and can be emailed to [email protected] or a hard copy can be delivered to Attn:  Linda Spence, Business Specialist, Washington County, MD Department of Business Development, 100 West Washington Street, Suite 1401, Hagerstown, MD 21740. 
Online Sales and Telework Opportunities Grant Program is intended to assist businesses in setting up an online sales framework and offer employees telework opportunities.
Applications will be accepted from 8:00 a.m. EST on Monday, October 4, 2021, until 2:00 p.m. EST on Tuesday, November 2, 2021.

Applications will be reviewed for completeness, including signatures, required documentation, and timeliness.

Applications will not be accepted after 2:00 p.m. EST on Tuesday, November 2, 2021.

Total funds provided to Washington County, MD for this grant is $125,164.00. Up to $7,500 will be awarded to applicants based on priority guidelines, on a first come, first served basis, until funds have been exhausted.

Grant eligibility under this program includes:

a business that has been established prior to March 9, 2021

business must be registered and in good standing with the Maryland State Department of Assessments and Taxation

priority given to a business that has not received COVID-19 Business Relief Grant(s) or Loan(s) previously

businesses must currently be in operation in Washington County, MD

a business must have a physical location in Washington County, MD

and a business must have less than 20 total employees.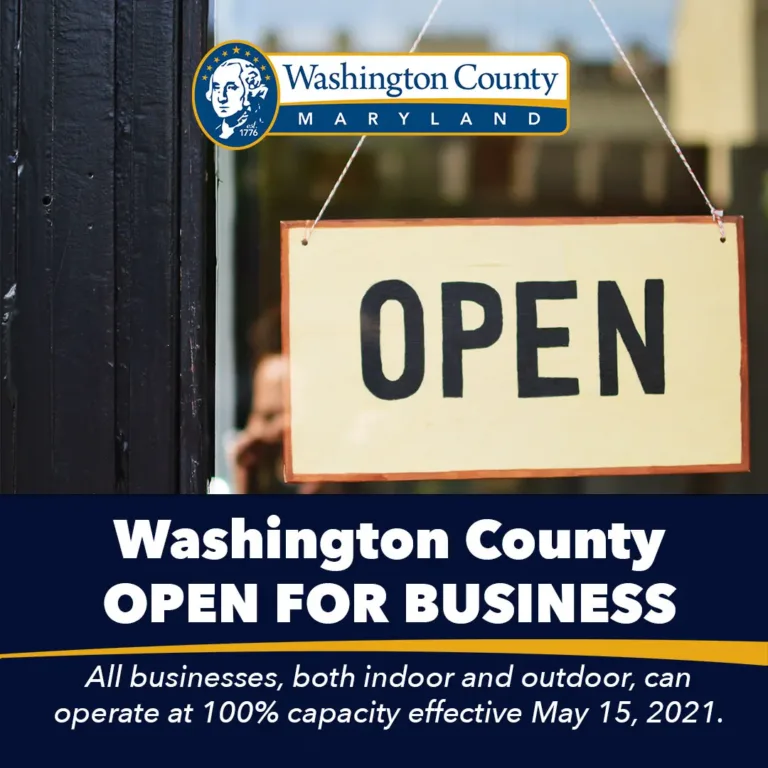 Safety Best Practices by Industry
As the county gets back to business, our business owners are urged to continue to put people first. This means adhering to best practices that ensure the safety of your workers and customers alike. Through our collective efforts, Maryland's business community will play a critical role in protecting our citizens and preventing another surge of COVID-19 infections. Leaders across Maryland's business community have assisted in developing best practices to help businesses across the state as we enter this new era in business.
Updated COVID-19 Guidance
The Washington County Health Department (WCHD) strongly urges all community members who are not yet fully vaccinated to wear masks in indoor group settings and to get vaccinated if they are eligible. 
COVID-19 vaccinations are available to anyone age 12 and older.  For more information or to make a COVID-19 vaccination appointment, please visit WashCoVax.com or call 240-313-3456.
Additionally, WCHD recommends that all community members, even those who are vaccinated, continue to take actions to protect themselves and prevent the spread of COVID-19, including:
Wearing a well fitted mask indoors among people who do not live with you
Avoiding large crowds and poorly ventilated indoor spaces

Washing your hands often 

with soap and water or hand sanitizer
Avoiding close contact with people who are sick, or others if you are sick
Community members showing any sign or symptom of COVID-19 should get tested, regardless of vaccination status or prior infection. Asymptomatic persons exposed to COVID-19 should also get tested, regardless of vaccination status.
Reference Links:
Meal Machine Locations Map
Remembering Jacob and Doris Bender
Washington County Health Officer Update - July 1, 2020
COVID-19 Update for Washington County, MD - April 11, 2020
Washington County Health Officer COVID-19 Update #4
Washington County Health Officer COVID-19 Update #3
Washington County Health Officer COVID-19 Update #2
Washington County Health Officer COVID-19 Update #1
Testing Sites in Washington County
The Meritus COVID-19 testing site is now available to those who do not currently have symptoms of the coronavirus, but suspect or are concerned that they have been exposed. No appointments or referrals are needed to be tested. Testing is now available for all ages.
Meritus Screening Drive Thru Center is located at 13620 Crayton Blvd. The drive-thru screening center is open Monday – Friday from 8:00 a.m. to 4:00 p.m and Saturday from 8:00 a.m.-2:00 p.m.
U.N.I. Urgent Care Center located at 11236 Robinwood Drive, Suite 101 Hagerstown, MD 21742. Appointment required and patients are charged with copay. Monday – Friday 8:00 a.m. – 4:30 p.m.; Saturday and Sunday 8:00 a.m. – 6:00 p.m.; 240-313-4242
U.N.I. Urgent Care Center located at 18721 N Pointe Drive Hagerstown, MD 21742. Appointment required and patients are charged with copay. Monday – Friday 8:30 a.m. – 7:00 p.m.; Saturday 8:30 a.m. – 6:00 p.m.; 301-733-8313
  HAGERSTOWN, MD (August 10, 2021) – In an effort to provide the citizens of Washington County, MD the ability to make informed decisions related to COVID-19, the COVID-19 dashboard has been reinstated at www.washco-md.net/coronavirus-info. Statistics will be updated on a daily basis. Please continue to do your part in fighting COVID-19 by getting vaccinated, wearing a mask, social distancing, and frequently
Read More »
This Page is a Collaboration Between: