Quick Contact
240-313-2777
The office is open from 8:00 a.m. to 4:30 p.m.
Monday – Friday
"… April 7, 1928, Kreider-Reisner purchased 60 acres of the farm owned by Robert N. and Emma J. Brumbaugh …"
The property located on Route 11 approximately three miles north of Hagerstown is part of the site of the present airport. Thus it is among the oldest continuously operating U.S. airports. For more information, check out this article on the History of Hagerstown Regional Airport, originally published in the Fall of 2003 in the American Aviation Historical Society's AAHS Journal(Vol. 48 Number 3). Alternatively you can purchase this AAHS Journal directly from the AAHS website.
The Hagerstown Aviation Museum's goal of preserving local aviation history is well under way. The downtown Hagerstown display at Discovery Station contains not only exhibits that chronicle the development of Hagerstown aviation but also serves as the collection site for research materials and local aviation memorabilia. While museum members continue to develop exhibits, conduct research and collect memorabilia, they are also planning to identify and document aviation sites in and around Hagerstown. Make sure to go check out their website for updates and upcoming events!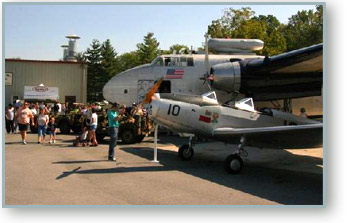 The Hagerstown Aviation Museum, Inc. is a nonprofit 501(c)(3) organization dedicated to the preservation and promotion of the region's more than 90 years of extraordinary aviation history.

P: 240-313-2777
F: 301-791-2590
Richard A. Henson Field
18434 Showalter Road
Hagerstown, Maryland 21742
The office is open from 8:00 a.m. to 4:30 p.m. Monday – Friday.